Show Letter for current pupils
---
---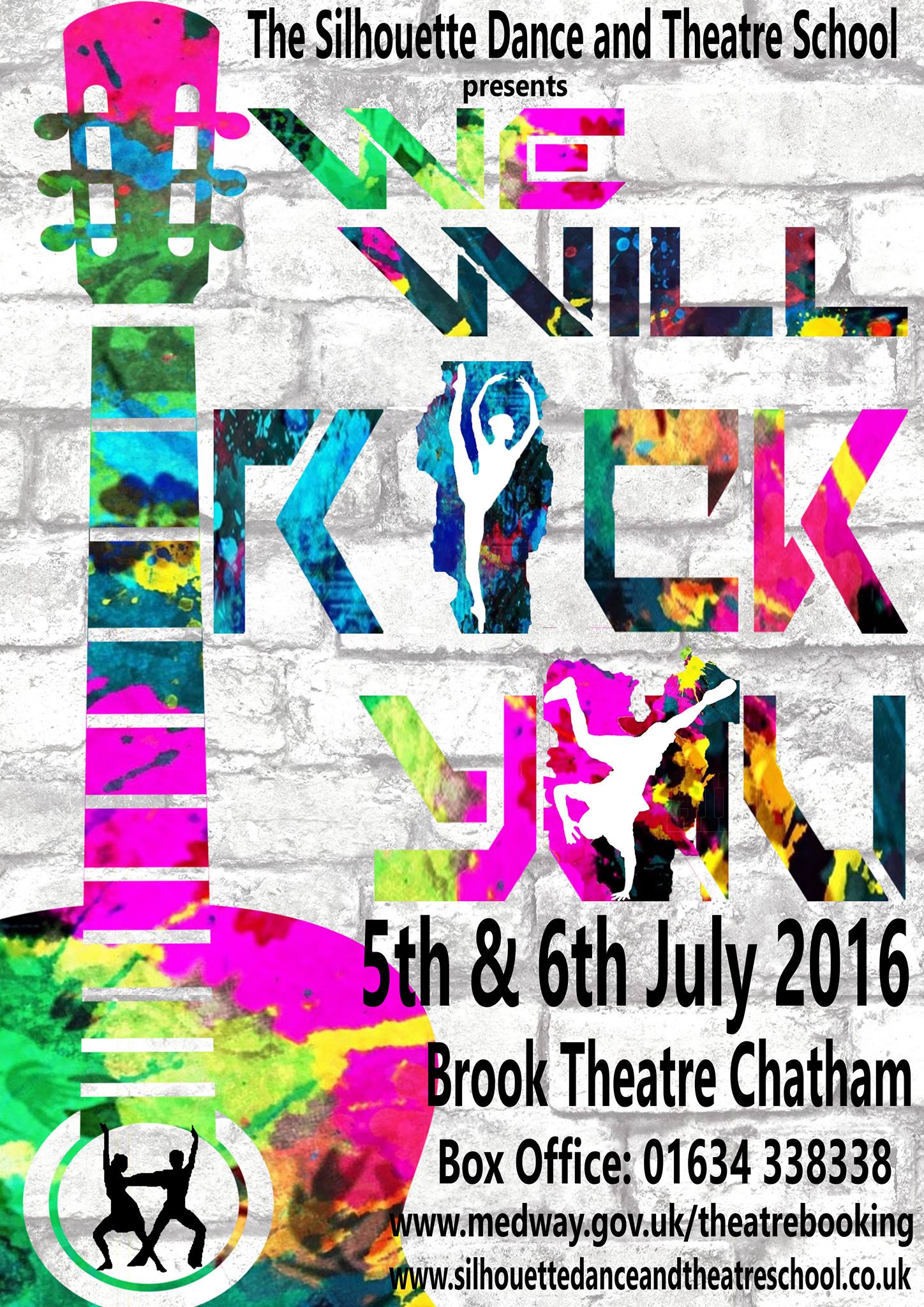 Parents of children in our forthcoming show "We Will Rock You", I have included the information from the last email sent out, so that you can also refer to it here for your convenience.
Dear Parents,
I am pleased to announce that the Box Office is now open, so you may now purchase your tickets for the forthcoming show "We Will Rock You" at The Brook Theatre, Chatham on the 5th and 6th of July.  Please use the following link to buy your tickets or you can telephone the theatre on 01634 338 338
http://medwayticketslive.co.uk/
Tickets are purchased through The Brook Theatre Box Office and I have no control over who purchases these tickets, it is also on sale to the general public.  Last years show was a sell out on both nights and I had some families who thought that they could purchase tickets on the night.  You can do so if there are still tickets available, but once they are gone, they are gone and there is nothing I can do to magic more seats, so please book early to avoid disappointment.  Whilst we are discussing tickets, all of the younger pupils in the school are only performing in Act 1 of the show, so that it is not too much of a late night for them.  However, if you wanted them to watch the 2nd Act of the show, you would need to purchase a ticket for them.  This is a theatre rule for health and safety reasons, so please bare this is mind when purchasing your tickets.  To clarify, if your child is only performing in Act 1 and you would like them to watch the older pupils perform in Act 2, you will need to purchase a ticket for them for the second act.  Of course you are welcome to leave them backstage.  I just wanted to inform you before you purchase your tickets.
There will however not be a professional and successful show unless we all pay careful attention to all of the information listed below:
     Date of show – I am still having parents and pupils ask me when the show is!!!!! Please write this in your diaries with the timings.  The dress rehearsal is 6:00pm on Monday 4th July at The Brook Theatre Chatham.  Please arrive for 5:00pm. (Secondary school pupils please arrive as quick as you can.) The show dates are the 5th and 6th of July at 7:30pm.   Please arrive at The Brook Theatre for 6:00pm.
Hair will be in two French plaits throughout the performance as it was the last show, so please start practicing those or making arrangements for someone to do them if you can't do them yourselves.
Please make sure you know the times of the rehearsals as they change from week to week now.
Wednesday 11th and Thursday 12th May – rehearsals as normal for one last week and the week after that they change to Tuesday night rehearsals.
Tuesday 17th May 6:30-7:15 all pupils in the finale group that currently attend rehearsals on Wednesdays at 7:15-8:00pm (Don't Stop me now Dancers)
7:15-8:00pm ALL PUPILS in the finale.  That includes all pupils that attend Wednesday and Thursday night rehearsals.
8:00-8:45pm All Thursday night rehearsal dancers (Bohemian Rhapsody Group)
Tuesday 24th May, as above.  If adult tappers can come to the 7:15 rehearsal slot, you will be able to do the bow walk on's.
All above rehearsals take place at Wolfe Hall, all rehearsals below take place on Tuesdays at Snodland Community Centre.
Tuesday 7th June        5:45-7:15pm                  Act 1 Run Through
Tuesday 14th June      5:45-7:15pm                  Act 2 Run Through
Tuesday 21st June       5:45-7:15pm                Act 1 Dress Rehearsal
Tuesday 28th June       5:45-7:15pm                Act 2 Dress Rehearsal
The running order for the show can also be found below, I have included the lesson time on the right hand side incase you are unsure of your child's dance title.  Please make sure that your children know their own running orders so that they know their own costume changes.
We Will Rock You Running Order
Act 1
Bye Bye Blackbird                                                                                   Advanced Jazz (Thursday 6:30)
One Short Day                                                                            Musical Theatre (Thursday 5:00  and Saturday 11:15)
My Boy Lollipop                                                                                        Pre Primary Tap (Saturday 2:15)
Part of Your World                                                                                  Primary Ballet (Monday 5:00)
Fireworks                                                                                                     Primary Modern (Saturday 10:45)
Show me the Money                                                                                Junior Street (Thursday 4:30)
Jungle Rhythm                                                                                  Pre Primary Modern (Saturday 15:15)
No Light No Light                                                                           Intermediate Modern (Thursday 6:00)
Almost There                                                                                              Primary Tap (Monday 6:00)
A Whole New World                                                                               Primary Ballet (Saturday 10:15)
Wiggly Woo                                                                                                  Baby Ballet (All classes)
9 to 5                                                                                                                 Grade 1 Tap (Saturday 12:45)
Magic                                                                                                                 Primary Modern (Monday 5:30)
Respect                                                                                                            Primary Tap (Saturday 9:45)
Somewhere Over the Rainbow                                                  Pre Primary Ballet (Saturday 14:45)
Fix You                                                                                                             Lyrical (Friday 6:15)
Act 2
Turn Down for What                                                                              Junior Street (Saturday 12:15)
Allegretto                                                                                                       Pointe (Thursday 7:40)
Chandelier                                                                                                     Grade 5 Modern (Friday 4:45)
Harry Potter Hedwig's                                                                         Grade 2 Ballet (Friday 3:45)
Like I Love You                                                                                       Intermediate Tap (Friday 7:15)
Entry of the Gladiators                                                              Gymnastics & Stretch(Saturday 11:45)
Pitch Perfect                                                                                                 Grade 4 Tap (Friday 5:45)
Nutcracker                                                                                                    Grade 1 Ballet (Saturday 13:15)
Footloose                                                                                                       Grade 2 Modern (Thursday 4:00)
Tribute                                                                                                            Adult Jazz (Monday 7:30)
A thousand Years                                                                                      Intermediate Ballet (Friday 6:45)
Sing, Sing, Sing                                                                                              Grade 2 Tap
Carmen Hab Ebarmen                                                                            Grade 4 Ballet (Friday 5:15)
Dance with me Tonight                                                                         Grade 1 Modern (Saturday 13:45)
Be Right There                                                                                            Advanced Street (Thursday 7:10)
On Any Street                                                                                              Adult Tap (Monday 7:00)
Finale                                                                                                                Full Cast (Except Baby Ballet, Pre Primary and Primary Ballet, Tap and Modern)
As you are aware, I try my very hardest to get the costumes as cheap as possible and have worked tirelessly to ensure that this is the case, I have spent time sourcing fabrics and replicating costumes from some of the expensive suppliers who are sometimes £100 per costume to try and keep the costs as low as possible. To help with keeping the cost of costumes low, some dances you may be able to use clothes that you already have, or be able to source the items cheaply from inexpensive shops such as Primark. For the finale everyone will be required to wear the following costume (all pupils except for baby class, pre primary and primary classes are in the finale.)
Finale Costume
The theme is "We Will Rock You".  Please type into Google Images, We Will Rock You musical, where you will be able to see inspiration for what to wear.  Think grunge style, rock chic/ rock guy/ guitar hero. Blacks, red's tartans etc.  If you are unsure, please do ask me.  They should all wear black jazz shoes on their feet, like they are wearing for rehearsals.
Show me the Money Thursday 4:30pm Street Dance
Pupils in the street dance routine Show me the Money (pupils who attend the street dance class on Thursdays at 4:30pm) have a green camouflage theme for their dance.  These costumes can be anything in army green camouflages.  Including, shorts, hot pants, combats, trousers etc.  They can wear hats and caps if they want to and wear black trainers of their feet.
Wicked (Musical Theatre Thursday 5:00pm and Saturday 11:15)
The pupils in these classes are doing songs from Wicked, so we need them to dress up as the witch from Wicked.  You can source your own witch costume online or from a fancy dress shop.  Please wear black jazz shoes on their feet.  You will see that two musical theatre classes are being joined for this show dance.  If you can get your children to the other class (times and dates are listed above), then please them to the other lesson, free of charge, so that they get the opportunity to work with everyone in the dance before the run through.
Circus (Gym and Stretch Saturdays 11:45am)
The pupils are doing are doing a circus themed dance.  So they can choose to wear any costume from the circus.  Eg.  Happy clowns, sad clowns, jesters etc.  If you google clown costumes, there are lots of choices.  Please show Miss Katrina these as you buy them, so that we have a selection.
Saturday Street Dance 12:15pm
The pupils have a colour scheme of black and orange, It can be anything in these colours including shorts, combats, tracksuit bottoms, jumpers, hoodies, T-Shirts etc.  Can I please ask that you discuss what your child is wearing with other parents, so that there is a real mixture (For example, if everyone wore orange tracksuit bottoms and one person wore black, it would look as if that one person had worn the wrong colour, so there needs to be a real mixture.  The colours should be bright orange and black.  You can also use orange and black string vests and alternate the other colour underneath and accessorize with orange and black accessories (hats, scarves, bandana's etc.)
Working 9 to 5 (Grade 1 Tap Saturday's 12:45pm)
The pupils need to look like office workers so will need to wear a white school shirt (high collared, not open neck, so that they can wear a tie), black tie on elsatic, black knee length skirt and black glasses with the lenses popped out (3D cinema glasses will be fine)
Advanced Street Thursday 7:10pm
Black Ripped Jeans, Black vest tops, white T-shirts (cut, slashed or customized)  White glow Trainers https://www.amazon.co.uk/Sanwood-Charging-Luminous-Universal-Sportswear
Jungle Rhythm (Pre Primary Modern Saturday 15:15pm)
The girls are dancing to Jungle Rhythm, they will all need a different animal costume.  There are plenty of animals in my dance catalogue, so I am happy to provide these, but I thought they might have animal costumes for fancy dress.  When you collect your children from dancing can you all please check what animals your child is.  Four example if there are 7 tigers and one elephant, it would look strange, so we either need everyone the same, or everyone different. Please keep myself and Miss Katrina up to date with the progress of this.
Most costumes have already been tried on in class, if they haven't been tried on, they will be tried on next week.  As soon as I have made sure that all of the costumes fit and can confirm the costume for each dance, I will send out a costume price list.  The costumes will need to be paid for promptly, so please make sure that you pay when you receive this email.  For those of you who have been doing costume savings schemes, I shall speak to you all individually incase there is a shortfall or you are in credit.
The souvenir show hoodie is now ready and can be purchased from me for £28 for children hoodies and £32 for adult sizes.  The dance school tracksuit bottoms are also on sale for £18 for children's sizes and £22 for adult sizes.  Sizes are available from age 3-4 and go up to an Extra Large Adult.
There will be lots of information that I need to get to you from now and until the show.  Please visit the website and on the home page you'll see an orange symbol next to the Facebook logo.  If you click on this RSS Feed symbol, you will be notified whenever I add to the News & Events Page which is where I will add show information. Please check your emails and the website regularly.  I will also update the Facebook page often as this is a really quick and easy way for me to get information to you, so please ensure that you have 'liked' the page and visit it regularly so that you stay up to date with all of the information.  When you have liked our Facebook Page, make sure that you click on the "see first" tab on the page, to ensure that you see our posts. Please click on the link on my signature of the email to make sure you're kept up to date.
Once costumes have been paid for and they are handed out, can I please ask that you make sure that all of your costumes are named (in a place not visible to the audience)..
If anyone has ANY questions no matter how small regarding the show, please ask me immediately.
Show notice board. 
I shall be taking a show notice board to dancing with me.  Please make sure you read it.  It will have every pupils name on the board, please make sure that the spelling is correct, as this will be the spelling for the show programme and show DVD credits.  Please tick next to it if the spelling is correct.  I urge that you do this asap as the programmes will be printed soon.  If the spelling is incorrect and isn't changed then in will be wrong in the programme.
Helpers – The show will be unable to go ahead without helpers backstage, please write your name down on the board if you can help backstage.  Thank you in advance for offering to help!
All pupils in the Finale
Can I please ask that all pupils in the finale learn the words for 'We are the Champions' (found below) So to clarify, everyone who has been learning a Queen finale dance, will be required to learn the words below.
We are the Champions Lyrics
We are the champions, my friends,
And we'll keep on fighting 'til the end.
We are the champions.
We are the champions.
No time for losers
'Cause we are the champions of the world.
As always, please let me know if there is anything that you are unsure of, but please make sure that you know where and when your children need to be and if there are any costumes that I have listed above that you need me to order, please let me know straight away, so that I can order them.
If your costume hasn't been mentioned, it has been ordered and you will be informed of the price ASAP.
Thank you for your support, it means a lot at this rather stressful time for me.  It will all be worth it!!
From
Miss Louise
---
---